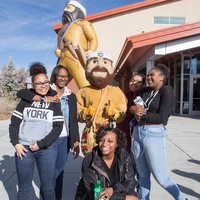 Visit Western for Preview Days and get a taste of college life. Experience true Mountaineer culture when you connect with current students, meet with...
Brazilian jiu-jitsu is a martial art and combat system with fundamentals based in ground combat. Come learn the basics in a judgement-free group class in...

Hyperbolic functions in relativity Kienan Allianic-Rapozo A paper written by Howard Shaw, former Western instructor, explains the connections between...

Mindfulness is a subtle yet powerful practice that invokes self-awareness, a deeper connection to your true-self, and loving-kindness towards yourself and...
An amazing workout, cleverly disguised as fun. Indoor cycling provides upbeat cardio in a lively group setting! Come try it out on any Monday, Tuesday or...

Group yoga allows you to exercise your mind, body and spirit. Join us in the Mountaineer Field House Activity Room 1 to stretch and re-focus. All of our...
Amazing workouts, cleverly disguised as fun. Group Exercise classes can motivate and inspire you to push yourself beyond what you thought possible. Here at...

We meet at 7 p.m. on Thursday nights, in the LEAD office in the University Center.

Knot Theory's Applications in DNA David Velazquez We begin learning about knots as little kids trying to tie our shoes. Unfortunately our shoes laces are...

Make sure to study hard for you final exams!

Sell the books that you don't want to keep....for CASH!