This calendar is under development.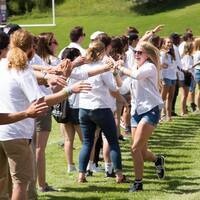 Visit Western for Preview Days and get a taste of college life. Experience true Mountaineer culture when you connect with current students, meet with...
Sea kayak Lake Powell or desert multi-sport in Moab. Sign up in the WP Office!
Spring Break 2018. Have a fun and safe break. March 19-23, 2018
BFA Senior Art Exhibition – featuring the works of Liz Grindle, Cierr Redding, Erin Twaddell and Christine Belgarde

Lisa Dilling, Director of the Western Water Assessment, will speak to us about her work in one of the RISA programs and highlight potential opportunities for...
Western's inaugural Mock Trial team will put on a demonstration of the attempted murder case of State of Midlands v. Dylan Hendricks. Students will perform...
Come join LEAD for our monthly Trivia Night!
Join the LEAD Office as we host an Eaqster Egg hunt fit for a college student!
F. George Damson Music Competition
A rotating menu of a tasting of 4 beers paired with a small bite for $10.